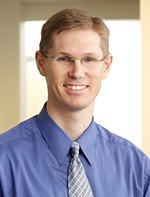 Dr. Groff is a board-certified orthopaedic surgeon who has been practicing orthopaedics since 2001. While earning his Doctorate of Medicine at the
University of Pittsburgh
, Dr. Groff was honored with the Sankey Award for excellence in Orthopaedics. After completing his internship and residency in Orthopaedic Surgery, he was named Most Outstanding Resident of his class. Dr. Groff also completed a Sports Medicine Fellowship at the University of Pittsburgh, and he has a Certificate of Added Qualification in the specialty.
Dr. Groff is Director of Community Orthopaedic Services at UPMC Shadyside Hospital. Groff Orthopaedics partners with the hospital to provide patient-focused treatment plans that encompass the whole orthopaedic process, from initial diagnosis through recovery, including surgery when necessary.
Dr. Groff sees patients at the Shadyside and the Monroeville offices. He performs surgery at UPMC Shadyside Hospital. The practice accepts most major health insurance carriers.
---

A doctor who's really on the ball
Dr. Groff played college basketball at Amherst College in Massachusetts. He participated in the prestigious Maccabiah Games as part of the U.S. team in 1989 and went on to play two years of professional basketball in Israel.
Today, Dr. Groff satisfies his love of sports by running, biking, waterskiing, playing sports with his kids — and treating patients from committed athletes to weekend warriors.
510 S. Aiken Avenue, Suite EG-01 East Wing Shadyside Hospital, Pittsburgh, PA 15232
600 Oxford Drive, Suite 210, Monroeville, PA 15146
phone
412-683-1717
fax
412-683-1773